A smart way to enjoy Okinawa with flexibility
Hello, to all of you out there who have finally begun to notice my charm.
It's Fukumoto.

Let me tell you something. I love cars.
This is the kind of car I own.
I'm the type of traveler who wants to travel in his own car.
I get more motivated when I have to drive 200km than walk 1 km.


People looked at me coldly when I told them I wanted to go to Okinawa in my own car (from Kobe).

Just think about it. When I arrive at my destination, there'll be no car I can drive myself around in.
Wouldn't that bother you?

As I was making such complaints, my wife came up with an idea.

"Why not rent a car?"

What?!
Are you telling me to forget my principles and get into one of those automatic cars that has been under the maintenance of some stranger?

It's not my fault that I have zero motivation.
At least that's how I felt in the beginning…
We started thinking of actually renting a car on our second day of the trip.
We were staying at a hotel called Rizzan Sea Park Hotel, and they seemed to have some tie-up with the nearby Orix Rent-a-car Onnna Branch. And the fact that

・depending on the time, the car can be picked up at the hotel
・the car can be returned at the hotel parking lot and the key can be dropped off at the front desk

was so convenient and tempting.

However, with the traumatic experience of having just crashed a rented car, I wasn't really excited about the idea.

Plus all the paperwork!
I know the procedures because I used to work at a rental car company!

…was what I had thought, until I found out that a reservation can be easily made online.
All I had to do was select my car and enter my personal information, and voila! The reservation was done.

Oh, no!
I actually rented a car!

I actually rented a car!
※This is so important I had to say it again


Okay, the car is rented so we have to have the most fun!
Yes, I'm a positive thinker.
※So the truth is, "A smart way to enjoy Okinawa with flexibility" was thought of by my wife.

We have a car now, so with no time wasted, we made a reservation the same day to make Shisa (an Okinawan guardian lion dog).
During the journey I become more and more hyper being behind the wheel.
※"Someone" said something about a car being under the maintenance of a stranger. I forget what.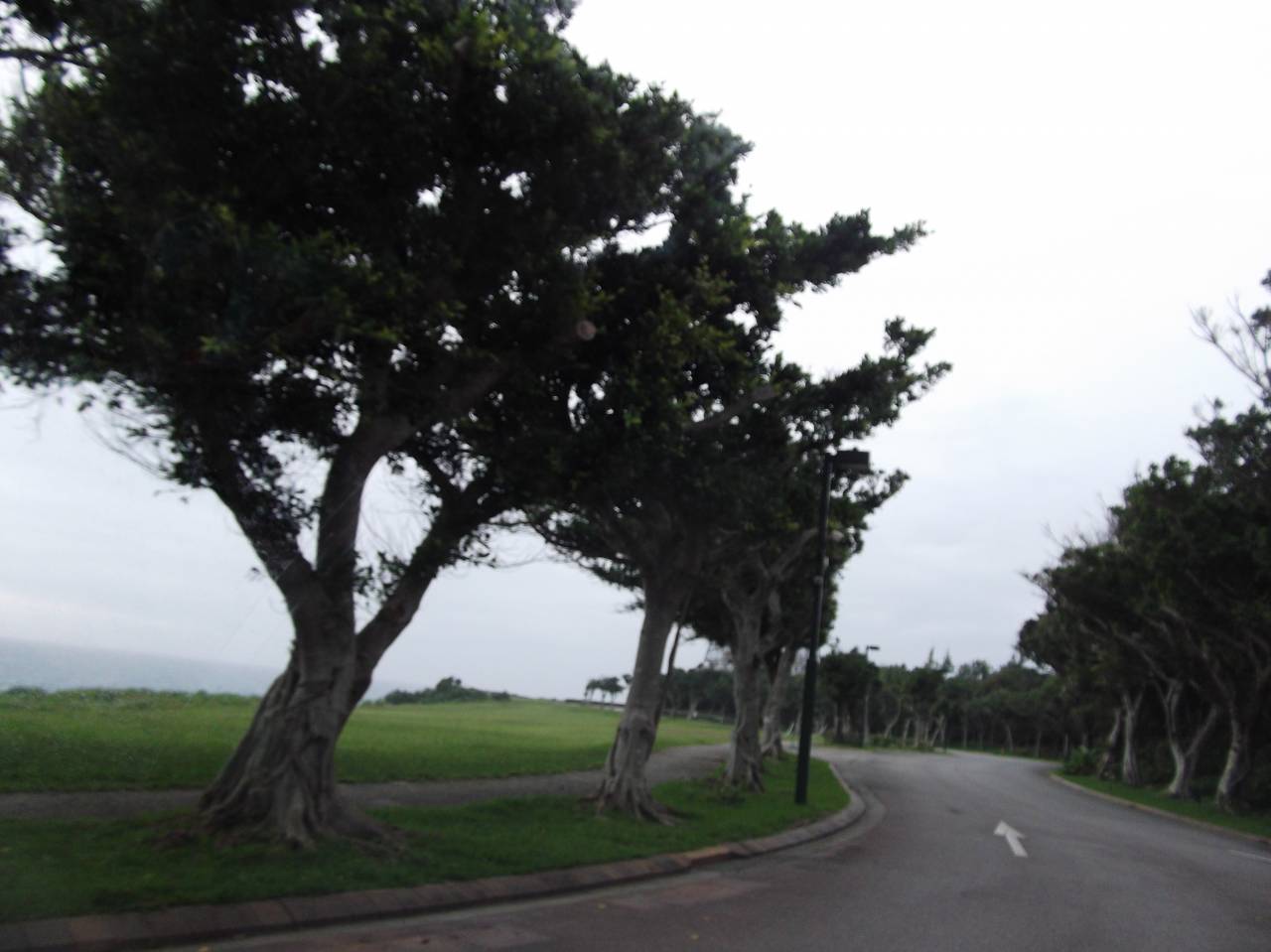 The place where we made Shisa was by the beach called "Gala the Blue Sea" so we drove near the beach too.
It felt great.
Our next destination was Mihama American Village, which an equivalent in Kobe would be Mitsui Outlet Park Marine Pia Kobe.
It's a shopping plaza with an American atmosphere where many foreigners hang out.

I love traveling with such flexibility.
Regardless of place, this is the best way to travel, and something that public transportation services cannot provide.

At the American Village, I found a cool T-shirt and bought it on impulse.
And now,
Dinner! (at Mrs. Mako's American American Mihama Branch (3rd shop))
Grocery shopping! (at San-A Chatan Hamagawa Branch)

As easy as that.
This is just great.


Being the driver, I am basically in a good mood so no matter how unimportant the errand, I am 100 times more generous than usual.

And we drive ourselves to wherever we want, fill up the tank and return the car to the hotel.
That's all there is to it.
Easy, right?


Well, it was supposed to be easy if I hadn't missed the gas station (truth is, I was just lazy so I wanted to wait until I was closer to the hotel). I put myself into trouble.

It was getting late, around 11 pm I think, and I couldn't find a gas station.

We went north past the hotel, but no luck.
Then I thought maybe we should go to the east side of the island so I used Google map, but something that looked like a gas station was actually something else!

What an experience.
We were in a slight panic.

We went back the way we came, about a 10 minute drive.
We finally found a 24-hour self-service gas station.

That wasn't so bad.
I actually found the experience quite thrilling.

We returned the car at the end of the day. We partied in our hotel room with a few drinks, remembering to keep the noise down.
Yes, keeping the noise down.

So renting a car wasn't so bad after all.
I've actually tasted the fun of renting a car.

It's so easy and quite exciting than I had thought.
Besides, the price was only around 8000 yen a day.
If we split it among friends, each person can save even more.


-----
About Shinya Fukumoto
An engineer in Kobe who is crazy about curry and MINIs (the classic ones). Usually a serious person, but when writing articles, becomes playful even during photo sessions. Writes mostly about curry and other foods, occasionally about sightseeing. Won't ask for more if you will just have fun reading the nonsense posts.
Original article